"Rumor has it…" The Pharisees have heard that Jesus was gaining and baptizing more disciples than John. Yep, they're trying to create a news story where there isn't one. It's not a competition; they're a team. Whatever. Jesus has no wish to escalate a conflict with the Pharisees, so he leaves the area. Sometimes the best way to solve a problem is to remove yourself from its circle. He heads north to Galilee, and decides to go through Samaria (not the friendliest environment for a Jewish guy. It might be sort of like a black American man walking through center city Montgomery, Alabama, in the 1950s.)
Jesus sends his disciples into town as a group to buy food. It's hot, and Jesus is tired, so he sits down by a well. A woman comes to draw water and, contrary to cultural expectations, treats her with respect and speaks to her. "Will you give me a drink?" The woman is stunned. Bigotry is the rule of their culture, and Jews don't associate with Samaritans. Besides that, men don't talk to women that way. It's a double shock. She questions him, saying, "How can you ask me for a drink?", but maybe feeling a little prideful triumph: "Ha. Even a Jewish man, when he's tired and thirsty enough, can lower himself to ask a Samaritan woman for a drink." What Jesus had done was socially inappropriate, politically inconceivable, and religiously confusing.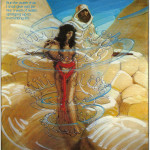 Jesus answers her with a statement that makes her thirsty for more: "If you knew the gift of God and who it is that asks you for a drink, you would have asked him and he would have given you living water." Well now, a statement like that will make a person ask another question. He's making a statement about himself without coming right out and saying it.
Predictably, she takes the bait, but is thinking about human and physical things. "Uh, you don't have a bucket and the well is deep. How will you get the living water?" (Living water was a common expression for running water, like a spring. This well filled up, but didn't really "live". Maybe she thinks with a long enough rope he can get to the bottom where the water is more active and fresher.) She's thinking literally, but he's speaking in metaphors to draw her in.
"You know," she continued, "Jacob dug this well and drank from it himself." Another possible moment of cultural pride and a little one-up-man-ship.
Jesus pours out another metaphor: "Everyone who drinks this water will be thirsty again, but whoever drinks the water I will give will never thirst. For that matter, the water I give will become a bubbling spring of water rising up to eternal life."
She's hooked, but she still misunderstands: "Sir, give me this water so that I won't get thirsty and have to keep coming here to draw water." She is evidently confused but interested.
Jesus isn't ready to let on yet who he is. He says to her, "Go, call your husband and come back." It's a reasonable request to want to include the husband in this discussion, especially as it gets deeper. It also serves well to challenge the woman to examine the state of her own soul.
"I don't have one," she said. She has no desire to be scrutinized, least of all by an unknown Jewish man.
"You're right," Jesus said, as he plans to reveal himself some more. "The fact is, you've had five husbands, and the man you now have is not your husband."
I'm sure the woman gulped a big gulp. Who IS this man? She may have been confused, but she's not stupid. "I can see that you are a prophet." It's quick thinking on her part. She continues: We worship here, you worship there." Oh well, to each his or her own religion.
Jesus replies, "It's not a matter of being religious, or questions about where you worship, but whom you worship. There is such a thing as truth, and it's findable, and it matters." He continues, "The core issues really don't have anything to do with religion, so let's put that off to the side. When we talk about God, we need to talk about relationship and truth. We find God in the relation of our own heart to him. Not just what we feel, though, but what is true. God is a real being, so we must know Him as He is, not as we conceive him to be."
The woman's heart has been captured. "There is one coming from God," she says in a moment of innocence and openness, "who will help us understand all these things."
Then Jesus, full of grace and truth, says, "It's me. I am the one from God." You can just feel her heart burning within her.